Please Help The Iraqi Reconstruction
Many of us have become bloggers because we are outraged at the brutality of our enemy and the callous disregard for reason by some of our countrymen. We wanted to do something to make a difference in the War on Terror. A successful businessman named Jim Hake felt the same way.
He started a charity called
Spirit of America
to support our troops in the field. This is a non profit group that gives humanitarian aid to Iraqis, Afghanis and civilians from the Horn of Africa. The aid is distributed by our troops in goodwill bridgebuilding missions.
Spirit of America is reaching out to the blogger community to get the word out. Please post this blog ad in your sidebar if you would like to help them.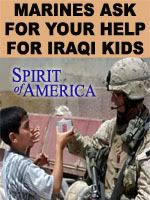 All you have to do is copy and paste the following html code into your blog template. To retrieve the code just click on the comments section and it is located in the first comment. Highlight the text and click "Control" + "C".
If you need help just let me know in the comments.
Thanks