Australian, British & Iraqi flags fly side by side in the Muthanna Province
The Coalition has scored a number of dramatic victories in Iraq and continues to do so. Over and Over, the insurgents worst fears are materialized and they are powerless to prevent them. A new Constitution, elections, formation of a democratic government, expulsion from Fallujah and Najaf, etc…
Today the insurgents' prospects have become even dimmer.
At a ceremony today in the city of Samawah
Coalition officials handed over the control of the Muthanna Province to the Iraqi authorities. For the first time the security of an entire province was handed over to the Iraqis. While it is a peaceful and remote province, it is still an important milestone. This is the beginning of the transfer of security for the whole country to Iraqi control.
Australian Private Luke Wiffen is welcomed by Iraqi children as he takes a break from a patrol in the Muthanna Province
Imagine the despair of Iraqi insurgents if US troops no longer needed to patrol Iraqi roads. The insurgency is at such a poor state that their only effective weapon against US troops is Improvised Explosive Devices (IEDs). Remote controlled bombs that keep them out of the reach of superior US firepower.
After a complete transfer of military control the insurgency will continue, but they will be delegated to almost exclusively fighting their fellow Iraqis. There will be no more occupation to rally against.
Completion ceremony of an Australian built bridge in the Muthanna Province
Opening of an Australian funded Mobile Health Clinic in the Muthanna Province
Of course, the violence will not immediately stop because the Baathists and Islamists are not fighting for self-determination. Iraq already has that, they are fighting for power and bigotry. When US troops are off the streets, the little public support that the insurgents enjoy will evaporate because their true intentions will become obvious to even many of the most vile anti-American bigots.
We still have a long struggle ahead of us, but we will continue to check off a lengthy list of accomplishments along the way. Iraq will know freedom for the first time in its history.

Completion ceremony for a Japanese built elementary school in the Muthanna Province




Inspection of a new water purification plant constructed by Japanese troops in the Muthanna Province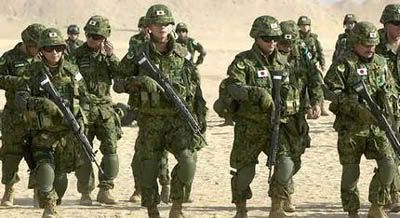 Japanese soldiers in the Muthanna Province. It was a job well done!!!